SIC Code 3826 - Laboratory Analytical Instruments
Industry Sector
Manufacturing
Use Data For:
Direct Mailing
Emailing
Calling
Research
Includes Free Sample & Industry Report
100% Phone-Verified, NCOA Processed, Accurate Data
Description
Establishments primarily engaged in manufacturing laboratory instruments and instrumentation systems for chemical or physical analysis of the composition or concentration of samples of solid, fluid, gaseous, or composite material.
Snapshot
SIC Code 3826 - Laboratory Analytical Instruments is a final level code of the "Manufacturing" Division. There are 213 companies classified in this industry in the USA with an estimated employment of 3,678 people.
Hierarchy Navigation for SIC Code 3826
Parent Category (less specific)
Industry Examples
Common types of examples within SIC Code 3826 - Laboratory Analytical Instruments are:
Amino acid analyzers, laboratory type
Automatic chemical analyzers, laboratory type
Chromatographic instruments, laboratory type
Colorimeters, laboratory type
Coulometric analyzers, laboratory type
Densitometers, analytical
Differential thermal analysis instruments
Electrolytic conductivity instruments, laboratory type
Electron paramagnetic spin type apparatus
Electrophoresis instruments
Elemental analyzers (CHNOS)
Flame photometers
Gas analyzers, laboratory type
Gas chromatographic instruments, laboratory type
Infrared type analytical instruments, laboratory type
Liquid chromatographic instruments, laboratory type
Magnetic resonance imaging type apparatus, except diagnostic
Mass spectrometers
Mass spectroscopy instrumentation
Microprobes: electron, ion, laser, X-ray
Microscopes, electron and proton
Moisture analyzers, laboratory type
Monochrometers, laboratory type
Nephelometers, except meteorological
Neutron activation analysis instruments
Osmometers
Particle size analyzers
Photometers, except photographic exposure meters
Polariscopes
Polarizers
Polarographic equipment
Protein analyzers, laboratory type
Redox (oxidation-reduction potential) instruments
Refractometers, laboratory
Specific ion measuring instruments, laboratory type
Spectrofluorometers
Spectrographs
Spectrometers: electron diffraction, mass, nmr, raman, x-ray
Spectrophotometers: atomic absorption, atomic emission, flame,
Surface area analyzers
Thermal analysis instruments, laboratory type
Thermal conductivity instruments and sensors
Thermogravimetric analyzers
Titrimeters
Turbidometers
Ultraviolet-type analytical instruments
Industry Image
Example photo for industry SIC 3826 - Laboratory Analytical Instruments. This image represents an activity or product found in this industry.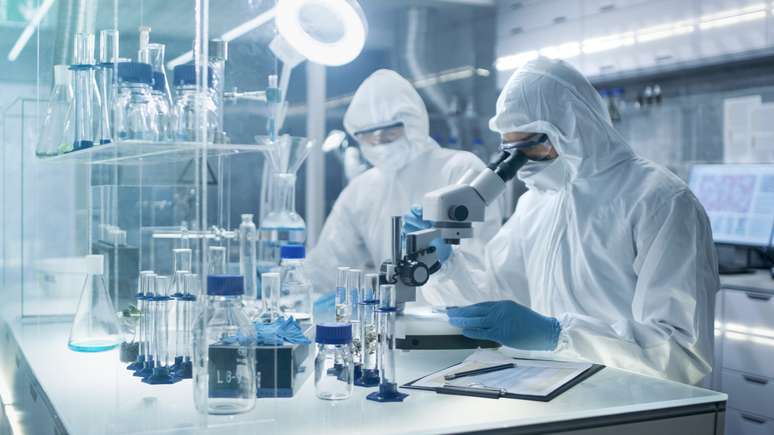 Cross-References
For some business types, there may be a similar industry to SIC Code 3826 - Laboratory Analytical Instruments that is a better classification match. Establishments primarily engaged in manufacturing instruments for monitoring and analyzing continuous samples from medical patients are classified in
SIC Code - 3845
, and from industrial process streams are classified in Industry 3823.
Companies
SICCODE.com compiles comprehensive business data and executive contact leads for businesses within SIC Code 3826 - Laboratory Analytical Instruments. Some of the leading and most notable companies are listed below. To order a list of companies within SIC Code 3826 - Laboratory Analytical Instruments for marketing (postal mailing, telemarketing, emailing) or analytics-use, click on the link below to "Buy Business List". Our data analysts are standing by to assist in your list setup and target marketing.
Industry Executives
Would you like to email executives in SIC Code 3826 - Laboratory Analytical Instruments? Below are some of the common job titles available to be targeted.
Business Development
Chairman
C-Level
Director
Engineering
Executive Director
Facilities
Finance
Human Resource
IT
Manager
Marketing
Manufacturing
Operations
Owner
Partner
President
Principal
Purchasing
Sales
Vice President
For specific job title targeting, please provide details in the business list request form.
Extended SIC Code Categories for
SIC 3826
For business marketing and targeting, SIC Codes have been extended to provide more specific classifications within SIC Code 3826 – Laboratory Analytical Instruments. Extended SIC Codes are being continuously updated to reflect the current business environment.
6-digit SIC
382698

Laboratory Analytical Instruments (manufacturers)
7-digit SIC
3826001

Analytical Instruments

3826002

Environmental Testing Equipment

3826003

Laser Scientific & Engineering Instruments

3826004

Magnetic Resonance Imaging Apparatus

3826005

Spectroscopic & Other Optical Properties Measuring Equip

3826006

Laboratory Analytical Instruments (manufacturers)

3826007

Flame Photometers

3826008

Hydrogen Ion Equipment, Colorimetric

3826009

Infrared Analytical Instruments

3826010

Mass Spectrometers

3826011

Mass Spectroscopy Instrumentation

3826012

Nephelometers (except Meteorological)

3826013

Photometers

3826014

Polarigraphic Equipment

3826015

Polariscopes

3826016

Refractometers (except Industrial Process Type)

3826017

Spectrographs

3826018

Spectrometers

3826019

Ultraviolet Analytical Instruments

3826020

Analytical Optical Instruments

3826021

Borescopes

3826022

Microscopes, Electron & Proton

3826023

Photomicrographic Apparatus

3826024

Liquid Testing Apparatus

3826025

Liquid Chromatographic Instruments

3826026

Moisture Analyzers

3826027

Petroleum Product Analyzing Apparatus

3826028

Water Testing Apparatus

3826029

Blood Testing Apparatus

3826030

Amino Acid Analyzers

3826031

Hemoglobinometers

3826032

Protein Analyzers, Laboratory Type

3826033

Gas Testing Apparatus

3826034

Gas Analyzing Equipment

3826035

Gas Chromatographic Instruments

3826036

Instruments Measuring Magnetic & Electrical Properties

3826037

Coulometric Analyzers (except Industrial Process Type)

3826038

Electrolytic Conductivity Instruments

3826039

Electrophoresis Equipment

3826040

Neutron Activation

3826041

Instruments Measuring Thermal Properties

3826042

Differential Thermal Analysis Instruments

3826043

Thermal Analysis Instruments, Laboratory Type

3826044

Thermogravimetric Analyzers

3826045

Automatic Chemical Analyzers

3826046

Chromatographic Equipment, Laboratory Type

3826047

Colorimeters-Optical Instruments

3826048

Dust Sampling & Analysis Equipment

3826049

Elemental Analyzers

3826050

Integrators

3826051

Microprobes

3826052

Particle Size Analyzers

3826053

Perimeters

3826054

Sewage Testing Apparatus

3826055

Specific Ion Measuring Instruments

3826056

Surface Area Analyzers

3826057

Titrimeters
8-digit SIC
38260000

Analytical Instruments

38260100

Spectroscopic And Other Optical Properties Measuring Equip.

38260101

Flame Photometers

38260102

Hydrogen Ion Equipment, Colorimetric

38260103

Infrared Analytical Instruments

38260104

Mass Spectrometers

38260105

Mass Spectroscopy Instrumentation

38260106

Nephelometers, Except Meteorological

38260107

Photometers

38260108

Polarigraphic Equipment

38260109

Polariscopes

38260111

Refractometers, Except Industrial Process Type

38260113

Spectrographs

38260114

Spectrometers

38260115

Ultraviolet Analytical Instruments

38260200

Analytical Optical Instruments

38260201

Borescopes

38260202

Microscopes, Electron And Proton

38260203

Photomicrographic Apparatus

38260300

Liquid Testing Apparatus

38260302

Liquid Chromatographic Instruments

38260303

Moisture Analyzers

38260305

Petroleum Product Analyzing Apparatus

38260308

Water Testing Apparatus

38260400

Blood Testing Apparatus

38260401

Amino Acid Analyzers

38260402

Hemoglobinometers

38260403

Protein Analyzers, Laboratory Type

38260500

Gas Testing Apparatus

38260501

Gas Analyzing Equipment

38260502

Gas Chromatographic Instruments

38260600

Instruments Measuring Magnetic And Electrical Properties

38260601

Coulometric Analyzers, Except Industrial Process Type

38260602

Electrolytic Conductivity Instruments

38260604

Electrophoresis Equipment

38260605

Magnetic Resonance Imaging Apparatus

38260606

Neutron Activation

38260700

Instruments Measuring Thermal Properties

38260701

Differential Thermal Analysis Instruments

38260702

Thermal Analysis Instruments, Laboratory Type

38260703

Thermogravimetric Analyzers

38269901

Automatic Chemical Analyzers

38269902

Chromatographic Equipment, Laboratory Type

38269904

Colorimeters (optical Instruments)

38269905

Dust Sampling And Analysis Equipment

38269906

Elemental Analyzers

38269907

Environmental Testing Equipment

38269908

Integrators (mathematical Instruments)

38269909

Laser Scientific And Engineering Instruments

38269910

Microprobes

38269911

Particle Size Analyzers

38269912

Perimeters (optical Instruments)

38269914

Sewage Testing Apparatus

38269915

Specific Ion Measuring Instruments

38269916

Surface Area Analyzers

38269917

Titrimeters