SIC Code 3531 - Construction Machinery and Equipment
Industry Sector
Manufacturing
Use Data For:
Direct Mailing
Emailing
Calling
Research
Includes Free Sample & Industry Report
100% Phone-Verified, NCOA Processed, Accurate Data
Description
Establishments primarily engaged in manufacturing heavy machinery and equipment of a type used primarily by the construction industries, such as bulldozers; concrete mixers; cranes, except industrial plant overhead and truck-type cranes; dredging machinery; pavers; and power shovels. Also included in this industry are establishments primarily engaged in manufacturing forestry equipment and certain specialized equipment, not elsewhere classified, similar to that used by the construction industries, such as elevating platforms, ship cranes and capstans, aerial work platforms, and automobile wrecker hoists.
Snapshot
SIC Code 3531 - Construction Machinery and Equipment is a final level code of the "Manufacturing" Division. There are 1,787 companies classified in this industry in the USA with an estimated employment of 18,945 people.
Hierarchy Navigation for SIC Code 3531
Industry Examples
Common types of examples within SIC Code 3531 - Construction Machinery and Equipment are:
Aerial work platforms, hydraulic or electric truck or carrier mounted
Aggregate spreaders
Asphalt plants, including travel-mix type
Automobile wrecker hoists
Backfillers, self-propelled
Backhoes
Ballast distributors (railway track equipment)
Batching plants, bituminous
Batching plants, for aggregate concrete and bulk cement
Blades for graders, scrapers, dozers, and snowplows
Breakers, paving
Buckets, excavating: e.g., clamshell, concrete, dragline, drag scraper,
Bulldozers, construction
Cab, construction machinery
Capstans, ship
Carriers, crane
Chip spreaders, self-propelled
Chippers, commercial: brush, limb, and log
Concrete buggies, powered
Concrete grouting equipment
Concrete gunning equipment
Concrete plants
Construction machinery, except mining
Cranes, construction
Cranes, except industrial plant
Crushers, mineral: portable
Derricks, except oil and gas field
Distributors (construction machinery)
Ditchers, ladder: vertical boom or wheel
Dozers, tractor mounted: material moving
Draglines, powered
Drags, road (construction and road maintenance equipment)
Dredging machinery
Excavators: e.g., cable, clamshell, crane, derrick, dragline, power
Extractors, piling
Finishers and spreaders, construction
Finishers, concrete and bituminous: powered
Grader attachments, elevating
Graders, road (construction machinery)
Grapples: rock, wood, etc.
Grinders, stone: portable
Hammer mills (rock and ore crushing machines), portable
Hammers, pile driving
Line markers, self-propelled
Locomotive cranes
Log splitters
Logging equipment
Mixers: e.g., concrete, ore, sand, slag, plaster, mortar, bituminous
Mortar mixers
Mud jacks
Pavers
Pile driving equipment
Planers, bituminous
Plaster mixers
Plows, construction: excavating and grading
Post hole diggers, powered
Power cranes, draglines, and shovels
Pulverizers, stone: portable
Railway track equipment: e.g., rail layers, ballast distributors
Rakes, land clearing: mechanical
Road construction and maintenance machinery
Rock crushing machinery, portable
Rollers, road
Rollers, sheepsfoot and vibratory
Sand mixers
Scarifiers, road
Scrapers, construction
Screeds and screeding machines
Screeners, portable
Ship cranes and derricks
Ship winches
Shovel loaders
Shovels, power
Silos, cement (batch plant)
Slag mixers
Snowplow attachments
Soil compactors: vibratory
Spreaders and finishers, construction
Subgraders, construction equipment
Subsoiler attachments, tractor-mounts
Surfacers, concrete grinding
Tampers, powered
Tamping equipment, rail
Teeth, bucket and scarifier
Tractors, construction
Tractors, crawler
Tractors, tracklaying
Trenching machines
Trucks, off-highway
Vibrators for concrete construction
Wellpoint systems
Winches, all types
Work platforms, elevated
Industry Image
Example photo for industry SIC 3531 - Construction Machinery and Equipment. This image represents an activity or product found in this industry.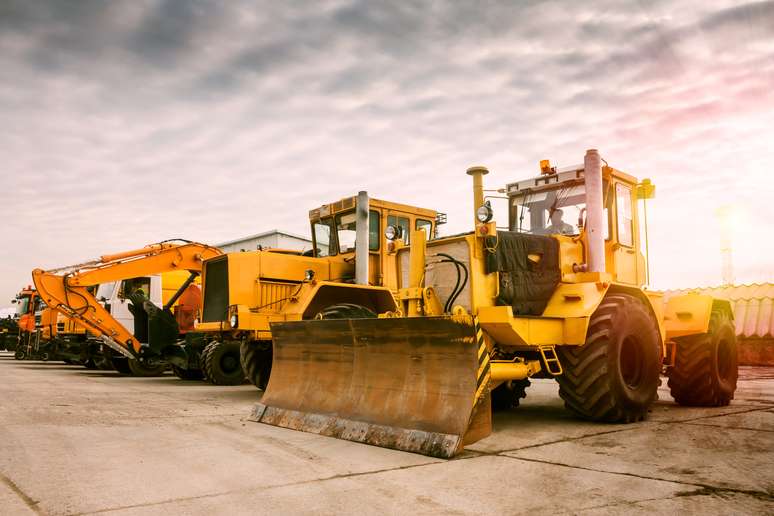 Cross-References
For some business types, there may be a similar industry to SIC Code 3531 - Construction Machinery and Equipment that is a better classification match. Establishments primarily engaged in manufacturing mining equipment are classified in
SIC Code - 3532
; those manufacturing well-drilling machinery are classified in
SIC Code - 3533
; those manufacturing industrial plant overhead traveling cranes are classified in
SIC Code - 3536
; and those manufacturing industrial truck-type cranes are classified in Industry 3537.
Companies
SICCODE.com compiles comprehensive business data and executive contact leads for businesses within SIC Code 3531 - Construction Machinery and Equipment. Some of the leading and most notable companies are listed below. To order a list of companies within SIC Code 3531 - Construction Machinery and Equipment for marketing (postal mailing, telemarketing, emailing) or analytics-use, click on the link below to "Buy Business List". Our data analysts are standing by to assist in your list setup and target marketing.
Industry Executives
Would you like to email executives in SIC Code 3531 - Construction Machinery and Equipment? Below are some of the common job titles available to be targeted.
Business Development
Chairman
C-Level
Director
Engineering
Executive Director
Facilities
Finance
Human Resource
IT
Manager
Marketing
Manufacturing
Operations
Owner
Partner
President
Principal
Purchasing
Sales
Vice President
For specific job title targeting, please provide details in the business list request form.
Extended SIC Code Categories for
SIC 3531
For business marketing and targeting, SIC Codes have been extended to provide more specific classifications within SIC Code 3531 – Construction Machinery and Equipment. Extended SIC Codes are being continuously updated to reflect the current business environment.
6-digit SIC
353101

Machinery (manufacturers)

353102

Concrete Handling Equipment (manufacturers)

353104

Construction Equipment (manufacturers)

353105

Contractors-Equipment (manufacturers)

353106

Sandblasting Equipment & Supplies (manufacturers)

353107

Pile Driving Equipment (manufacturers)

353108

Street Cleaning Equipment (manufacturers)

353109

Cranes (manufacturers)

353110

Concrete Breaking Cutting Equipment (manufacturers)

353111

Concrete Mixers (manufacturers)

353112

Logging Equipment (manufacturers)

353113

Prestressing Equipment & Materials (manufacturers)

353114

Paving Equipment (manufacturers)

353116

Insulation Applying Machinery (manufacturers)

353118

Piling Contractors' Equipment (manufacturers)

353119

Pipe Pushing Equipment (manufacturers)

353120

Batching Equipment (manufacturers)

353121

Ship Building Equipment & Supplies (manufacturers)

353122

Shovels-Power (manufacturers)

353123

Stripers-Mechanical (manufacturers)

353125

Aerial Towers (manufacturers)

353127

Scaffolding (manufacturers)

353198

Construction Machinery & Equipment (manufacturers)
7-digit SIC
3531001

Construction Equipment (manufacturers)

3531001

Construction Machinery & Equipment (manufacturers)

3531001

Contractors-Equipment (manufacturers)

3531001

Machinery (manufacturers)

3531002

Pavers

3531003

Backhoes

3531004

Marine Related Equipment

3531005

Cranes (manufacturers)

3531006

Road Construction & Maintenance Machinery

3531007

Backhoes, Tractors, Cranes, Plows & Similar Equipment

3531008

Asphalt Plant

3531009

Concrete Plants

3531010

Construction Machinery Attachments

3531011

Construction Machinery-Roofing

3531012

Construction Machinery-Bulldozers

3531013

Construction Machinery-Plows

3531014

Construction Machinery-Forestry Related

3531015

Construction Machinery-Tractors

3531016

Chippers-Brush, Limb & Log

3531017

Concrete Handling Equipment (manufacturers)

3531018

Log Splitters

3531019

Capstans, Ship

3531020

Cranes, Ship

3531021

Ship Winches

3531022

Sandblasting Equipment & Supplies (manufacturers)

3531023

Street Cleaning Equipment (manufacturers)

3531024

Railroad Related Equipment

3531025

Ballast Distributors

3531026

Concrete Breaking Cutting Equipment (manufacturers)

3531027

Prestressing Equipment & Materials (manufacturers)

3531028

Cranes, Locomotive

3531029

Paving Equipment (manufacturers)

3531030

Laying Equipment, Rail

3531031

Insulation Applying Machinery (manufacturers)

3531032

Railway Track Equipment

3531033

Piling Contractors' Equipment (manufacturers)

3531034

Bituminous, Cement & Concrete Related Products & Equip

3531035

Pipe Pushing Equipment (manufacturers)

3531036

Batching Plants, For Aggregate Concrete & Bulk Cement

3531037

Batching Equipment (manufacturers)

3531038

Bituminous Batching Plants

3531039

Ship Building Equipment & Supplies (manufacturers)

3531040

Cement Silos

3531041

Shovels-Power (manufacturers)

3531042

Concrete Buggies, Powered

3531043

Stripers-Mechanical (manufacturers)

3531044

Concrete Grouting Equipment

3531045

Aerial Towers (manufacturers)

3531046

Concrete Gunning Equipment

3531047

Scaffolding (manufacturers)

3531048

Finishers-Concrete & Bituminous-Powered

3531049

Mixers, Bituminous

3531050

Concrete Mixers (manufacturers)

3531051

Paving Breakers

3531052

Planers, Bituminous

3531053

Screeds & Screeding Machines

3531054

Surfacers, Concrete Grinding

3531055

Vibrators For Concrete Construction

3531056

Scrapers, Graders, Rollers & Similar Equipment

3531057

Backfillers, Self-Propelled

3531058

Finishers & Spreaders

3531059

Graders-Road Construction Machinery

3531060

Ladder Ditchers, Vertical Boom Or Wheel

3531061

Line Markers, Self-Propelled

3531062

Pile Driving Equipment (manufacturers)

3531063

Rollers-Road-Steam Or Other Power

3531064

Rollers, Sheepsfoot & Vibratory

3531065

Scrapers

3531066

Crane Carriers

3531067

Dozers-Tractor Mounted-Material Moving

3531068

Draglines, Powered

3531069

Dredging Machinery

3531070

Entrenching Machines

3531071

Excavators-Cable, Clamshell, Crane, Derrick, Dragline, Etc

3531072

Loaders-Shovel-Self-Propelled

3531073

Shovel Loaders

3531074

Subgraders

3531075

Tractors, Crawler

3531076

Tractors, Tracklaying

3531077

Trucks, Off-Highway

3531078

Tunneling Machinery

3531079

Crushers, Grinders & Similar Equipment

3531080

Crushers, Portable

3531081

Grinders-Stone-Portable

3531082

Hammer Mills

3531083

Mixers Nec-Ore, Plaster, Slag, Sand, Mortar, Etc

3531084

Posthole Diggers, Powered

3531085

Rock Crushing Machinery, Portable

3531086

Screeners, Portable

3531087

Soil Compactors-Vibratory

3531088

Aggregate Spreaders

3531089

Backhoe Mounted, Hydraulically Powered Attachments

3531090

Blades For Graders, Scrapers, Dozers & Snow Plows

3531091

Bucket Or Scarifier Teeth

3531092

Buckets-Excavating-Clamshell, Concrete, Dragline, Etc

3531093

Cabs, For Construction Machinery

3531094

Drags-Road Construction & Road Maintenance Equipment

3531095

Grader Attachments, Elevating

3531096

Grapples-Rock, Wood, Etc

3531097

Rakes-Mechanical

3531098

Snow Plow Attachments

3531099

Subsoiler Attachments, Tractor Mounted

3531100

Winches

3531101

Aerial Work Platforms-Hydraulic/electric Truck/carrier Mounted

3531102

Airport Construction Machinery

3531103

Automobile Wrecker Hoists

3531104

Catch Basin Cleaners

3531105

Derricks (except Oil & Gas Field)

3531106

Mud Jacks

3531107

Wellpoint Systems

3531108

Logging Equipment (manufacturers)
8-digit SIC
35310000

Construction Machinery

35310100

Forestry Related Equipment

35310101

Chippers: Brush, Limb, And Log

35310102

Log Splitters

35310103

Logging Equipment

35310200

Marine Related Equipment

35310201

Capstans, Ship

35310202

Cranes, Ship

35310203

Ship Winches

35310300

Railroad Related Equipment

35310301

Ballast Distributors

35310302

Cranes, Locomotive

35310303

Laying Equipment, Rail

35310304

Railway Track Equipment

35310400

Bituminous, Cement And Concrete Related Products And Equip.

35310401

Asphalt Plant, Including Gravel-Mix Type

35310402

Batching Plants, For Aggregate Concrete And Bulk Cement

35310403

Bituminous Batching Plants

35310404

Cement Silos (batch Plant)

35310405

Concrete Buggies, Powered

35310406

Concrete Grouting Equipment

35310407

Concrete Gunning Equipment

35310408

Concrete Plants

35310409

Finishers, Concrete And Bituminous: Powered

35310410

Mixers, Bituminous

35310411

Mixers, Concrete

35310412

Pavers

35310413

Paving Breakers

35310414

Planers, Bituminous

35310415

Screeds And Screeding Machines

35310416

Surfacers, Concrete Grinding

35310417

Vibrators For Concrete Construction

35310500

Scrapers, Graders, Rollers, And Similar Equipment

35310501

Backfillers, Self-Propelled

35310502

Finishers And Spreaders (construction Equipment)

35310503

Graders, Road (construction Machinery)

35310504

Ladder Ditchers, Vertical Boom Or Wheel

35310505

Line Markers, Self-Propelled

35310506

Pile Drivers (construction Machinery)

35310508

Rollers, Road: Steam Or Other Power

35310509

Rollers, Sheepsfoot And Vibratory

35310511

Scrapers (construction Machinery)

35310600

Backhoes, Tractors, Cranes, Plows, And Similar Equipment

35310601

Backhoes

35310602

Bulldozers (construction Machinery)

35310603

Crane Carriers

35310604

Cranes, Nec

35310605

Dozers, Tractor Mounted: Material Moving

35310606

Draglines, Powered

35310607

Dredging Machinery

35310608

Entrenching Machines

35310609

Excavators: Cable, Clamshell, Crane, Derrick, Dragline, Etc.

35310610

Loaders, Shovel: Self-Propelled

35310611

Shovel Loaders

35310613

Subgraders (construction Equipment)

35310614

Tractors, Construction

35310615

Tractors, Crawler

35310616

Tractors, Tracklaying

35310617

Trucks, Off-Highway

35310618

Tunneling Machinery

35310700

Crushers, Grinders, And Similar Equipment

35310701

Crushers, Portable

35310702

Grinders, Stone: Portable

35310703

Hammer Mills (rock And Ore Crushing Machines), Portable

35310704

Mixers, Nec: Ore, Plaster, Slag, Sand, Mortar, Etc.

35310705

Posthole Diggers, Powered

35310706

Rock Crushing Machinery, Portable

35310707

Screeners, Portable

35310708

Soil Compactors: Vibratory

35310800

Construction Machinery Attachments

35310801

Aggregate Spreaders

35310802

Backhoe Mounted, Hydraulically Powered Attachments

35310803

Blades For Graders, Scrapers, Dozers, And Snow Plows

35310804

Bucket Or Scarifier Teeth

35310805

Buckets, Excavating: Clamshell, Concrete, Dragline, Etc.

35310806

Cabs, For Construction Machinery

35310807

Drags, Road (construction And Road Maintenance Equipment)

35310808

Grader Attachments, Elevating

35310809

Grapples: Rock, Wood, Etc.

35310810

Plows: Construction, Excavating, And Grading

35310811

Rakes, Land Clearing: Mechanical

35310812

Snow Plow Attachments

35310813

Subsoiler Attachments, Tractor Mounted

35310814

Winches

35319901

Aerial Work Platforms: Hydraulic/elec. Truck/carrier Mounted

35319902

Airport Construction Machinery

35319903

Automobile Wrecker Hoists

35319904

Catch Basin Cleaners

35319906

Derricks, Except Oil And Gas Field

35319907

Mud Jacks

35319908

Road Construction And Maintenance Machinery

35319909

Roofing Equipment

35319910

Wellpoint Systems