SIC Code 3821 - Laboratory Apparatus and Furniture
Industry Sector
Manufacturing
Use Data For:
Direct Mailing
Emailing
Calling
Research
Includes Free Sample & Industry Report
100% Phone-Verified, NCOA Processed, Accurate Data
Description
Establishments primarily engaged in manufacturing laboratory apparatus and furniture. Important products of this industry include laboratory balances and scales, laboratory furnaces and ovens, laboratory centrifuges, and various components, parts, and accessories for laboratory apparatus.
Snapshot
SIC Code 3821 - Laboratory Apparatus and Furniture is a final level code of the "Manufacturing" Division. There are 220 companies classified in this industry in the USA with an estimated employment of 2,745 people.
Hierarchy Navigation for SIC Code 3821
Parent Category (less specific)
Extended SIC Codes (6-digit) for Laboratory Apparatus and Furniture
In-depth Industry Analysis: Explore Comprehensive Details on SIC Code Extended Pages
Industry Examples
Common types of examples within SIC Code 3821 - Laboratory Apparatus and Furniture are:
Autoclaves, laboratory
Balances, laboratory
Bunsen burners
Calorimeters laboratory type
Centrifuges, laboratory
Crushing and grinding apparatus, laboratory
Distilling apparatus, laboratory type
Dryers, laboratory
Evaporation apparatus, laboratory type
Freezers, laboratory
Furnaces, laboratory except dental
Furniture, laboratory
Granulators, laboratory
Hotplates, laboratory
Incubators, laboratory
Laboratory equipment fume hoods, distillation racks, benches and
Melting point apparatus, laboratory
Microtomes
Ovens, laboratory
Particle size reduction apparatus, laboratory
Pipettes, hemocytometer
Sample preparation apparatus, laboratory type
Shakers and stirrers, laboratory
Sterilizers, laboratory
Worktables, laboratory
Industry Image
Example photo for industry SIC 3821 - Laboratory Apparatus and Furniture. This image represents an activity or product found in this industry.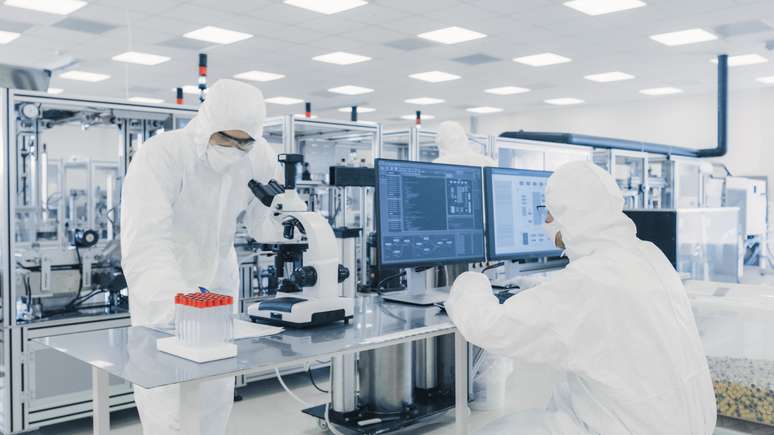 Cross-References
For some business types, there may be a similar industry to SIC Code 3821 - Laboratory Apparatus and Furniture that is a better classification match. Laboratory instruments are classified elsewhere, generally in other industries of industry group 382.
Companies
SICCODE.com compiles comprehensive business data and executive contact leads for businesses within SIC Code 3821 - Laboratory Apparatus and Furniture. Some of the leading and most notable companies are listed below. To order a list of companies within SIC Code 3821 - Laboratory Apparatus and Furniture for marketing (postal mailing, telemarketing, emailing) or analytics-use, click on the link below to "Buy Business List". Our data analysts are standing by to assist in your list setup and target marketing.
Industry Executives
Would you like to email executives in SIC Code 3821 - Laboratory Apparatus and Furniture? Below are some of the common job titles available to be targeted.
Business Development
Chairman
C-Level
Director
Engineering
Executive Director
Facilities
Finance
Human Resource
IT
Manager
Marketing
Manufacturing
Operations
Owner
Partner
President
Principal
Purchasing
Sales
Vice President
For specific job title targeting, please provide details in the business list request form.
Alternative SIC Code Categories for
SIC 3821
For business marketing and targeting purposes, please refer to the Extended SIC Codes (6-digit).
7-digit SIC
3821001

Laboratory Apparatus & Furniture

3821002

Laboratory Equipment & Supplies (manufacturers)

3821003

Clinical Laboratory Instruments (except Medical & Dental)

3821004

Metallurgists Equipment & Supplies (manufacturers)

3821005

Laboratory Apparatus (except Heating & Measuring)

3821006

Autoclaves, Laboratory

3821007

Centrifuges, Laboratory

3821008

Chemical Laboratory Apparatus Nec

3821009

Crushing & Grinding Apparatus, Laboratory

3821010

Distilling Apparatus, Laboratory Type

3821011

Evaporation Apparatus, Laboratory Type

3821012

Freezers, Laboratory

3821013

Generators, Magnetic Idealization

3821014

Granulators, Laboratory

3821015

Incubators, Laboratory

3821016

Laser Beam Alignment Devices

3821017

Magnetic Idealization Generators

3821018

Micromanipulator

3821019

Microtomes

3821020

Particle Size Reduction Apparatus, Laboratory

3821021

Pellicle Mirrors

3821022

Physics Laboratory Apparatus Nec

3821023

Pi Tapes

3821024

Pipettes, Hemocytometer

3821025

Sample Preparation Apparatus

3821026

Shakers & Stirrers

3821027

Sterilizers

3821028

Vacuum Pumps, Laboratory

3821029

Laboratory Furniture (manufacturers)

3821030

Worktables, Laboratory

3821031

Laboratory Heating Apparatus

3821032

Dryers, Laboratory

3821033

Furnaces, Laboratory

3821034

Melting Point Apparatus, Laboratory

3821035

Ovens, Laboratory

3821036

Laboratory Measuring Apparatus

3821037

Balances, Laboratory

3821038

Calibration Tapes, For Physical Testing Machines

3821039

Calorimeters

3821040

Time Interval Measuring Equipment-Electric
8-digit SIC
38210000

Laboratory Apparatus And Furniture

38210100

Laboratory Apparatus, Except Heating And Measuring

38210101

Autoclaves, Laboratory

38210102

Centrifuges, Laboratory

38210103

Chemical Laboratory Apparatus, Nec

38210104

Clinical Laboratory Instruments, Except Medical And Dental

38210105

Crushing And Grinding Apparatus, Laboratory

38210106

Distilling Apparatus, Laboratory Type

38210107

Evaporation Apparatus, Laboratory Type

38210108

Freezers, Laboratory

38210109

Generators, Magnetic Idealization

38210110

Granulators, Laboratory

38210111

Incubators, Laboratory

38210112

Laboratory Equipment: Fume Hoods, Distillation Racks, Etc.

38210113

Laser Beam Alignment Devices

38210114

Magnetic Idealization Generators

38210115

Micromanipulator

38210116

Microtomes

38210117

Particle Size Reduction Apparatus, Laboratory

38210118

Pellicle Mirrors

38210119

Physics Laboratory Apparatus, Nec

38210120

Pi Tapes (metal Periphery Direct Reading Diameter Tapes)

38210121

Pipettes, Hemocytometer

38210122

Sample Preparation Apparatus

38210123

Shakers And Stirrers

38210124

Sterilizers

38210125

Vacuum Pumps, Laboratory

38210200

Laboratory Furniture

38210201

Worktables, Laboratory

38210300

Laboratory Heating Apparatus

38210302

Dryers, Laboratory

38210303

Furnaces, Laboratory

38210305

Melting Point Apparatus, Laboratory

38210306

Ovens, Laboratory

38210400

Laboratory Measuring Apparatus

38210401

Balances, Laboratory

38210402

Calibration Tapes, For Physical Testing Machines

38210403

Calorimeters

38210404

Time Interval Measuring Equipment, Electric (lab Type)