SIC Code 3291 - Abrasive Products
Industry Sector
Manufacturing
Use Data For:
Direct Mailing
Emailing
Calling
Research
Includes Free Sample & Industry Report
100% Phone-Verified, NCOA Processed, Accurate Data
Description
Establishments primarily engaged in manufacturing abrasive grinding wheels of natural or synthetic materials, abrasive-coated products, and other abrasive products.
Snapshot
SIC Code 3291 - Abrasive Products is a final level code of the "Manufacturing" Division. There are 237 companies classified in this industry in the USA with an estimated employment of 5,400 people.
Hierarchy Navigation for SIC Code 3291
Extended SIC Codes (6-digit) for Abrasive Products
In-depth Industry Analysis: Explore Comprehensive Details on SIC Code Extended Pages
Industry Examples
Common types of examples within SIC Code 3291 - Abrasive Products are:
Abrasive buffs, bricks, cloth, paper, sticks, stones, wheels, etc.
Abrasive grains, natural and artificial
Abrasive-coated products
Abrasives, aluminous
Aluminum oxide (fused) abrasives
Boron carbide abrasives
Bort, crushing
Buffing and polishing wheels, abrasive and nonabrasive
Cloth: garnet, emery, aluminum oxide, and silicon carbide coated
Corundum abrasives
Diamond dressing wheels
Diamond powder
Emery abrasives
Garnet abrasives
Grinding balls, ceramic
Grindstones, artificial
Grit, steel
Hones
Metallic abrasives
Oilstones, artificial
Pads, scouring: soap impregnated
Paper: garnet, emery, aluminum oxide, and silicon carbide coated
Polishing rouge (abrasive)
Polishing wheels
Pumice and pumicite abrasives
Rouge, polishing
Rubbing stones, artificial
Sandpaper
Scythe-stones, artificial
Silicon carbide abrasives
Sponges, scouring: metallic
Steel shot abrasives
Steel wool
Tripoli
Tungsten carbide abrasives
Wheels, abrasive: except dental
Wheels, diamond abrasive
Wheels, grinding: artificial
Whetstones, artificial
Industry Image
Example photo for industry SIC 3291 - Abrasive Products. This image represents an activity or product found in this industry.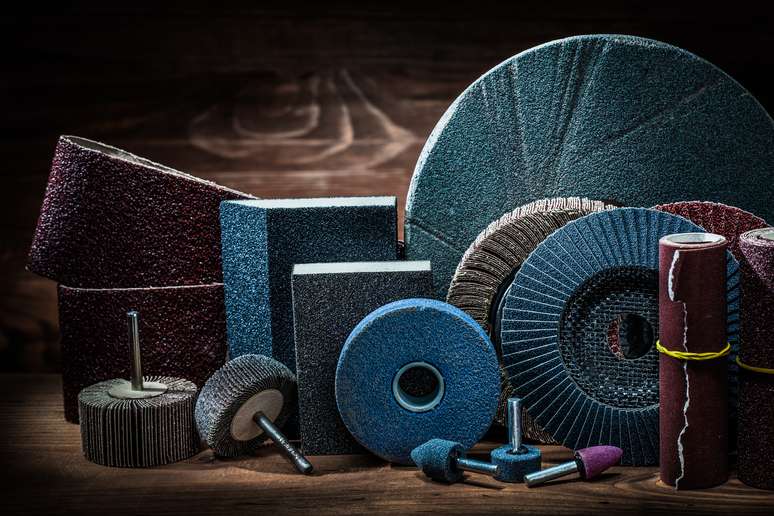 Cross-References
For some business types, there may be a similar industry to SIC Code 3291 - Abrasive Products that is a better classification match.
The cutting of grindstones, pulpstones, and whetstones at the quarry is classified in SIC Code - 10-14.
Companies
SICCODE.com compiles comprehensive business data and executive contact leads for businesses within SIC Code 3291 - Abrasive Products. Some of the leading and most notable companies are listed below. To order a list of companies within SIC Code 3291 - Abrasive Products for marketing (postal mailing, telemarketing, emailing) or analytics-use, click on the link below to "Buy Business List". Our data analysts are standing by to assist in your list setup and target marketing.
Industry Executives
Would you like to email executives in SIC Code 3291 - Abrasive Products? Below are some of the common job titles available to be targeted.
Business Development
Chairman
C-Level
Director
Engineering
Executive Director
Facilities
Finance
Human Resource
IT
Manager
Marketing
Manufacturing
Operations
Owner
Partner
President
Principal
Purchasing
Sales
Vice President
For specific job title targeting, please provide details in the business list request form.
Alternative SIC Code Categories for
SIC 3291
For business marketing and targeting purposes, please refer to the Extended SIC Codes (6-digit).
7-digit SIC
3291001

Abrasive Products (manufacturers)

3291002

Abrasive Metal & Steel Products

3291003

Aluminum Wool (manufacturers)

3291004

Scouring Abrasive Materials

3291005

Grinding Wheel Dressers (manufacturers)

3291006

Pads-Scouring-Soap Impregnated

3291007

Sponges-Scouring-Metallic

3291008

Abrasive Stones (except Grinding Stones)

3291009

Bort, Crushing

3291010

Hones

3291011

Pumice & Pumicite Abrasive

3291012

Stones, Abrasive

3291013

Tripoli

3291014

Aluminous Abrasive

3291015

Aluminum Oxide-Fused Abrasives

3291016

Grit, Steel

3291017

Steel Shot Abrasive

3291018

Steel Wool (manufacturers)

3291019

Abrasive Wheels & Grindstones, Not Artificial

3291020

Buffing Or Polishing Wheels, Abrasive Or Nonabrasive

3291021

Polishing Wheels

3291022

Wheels, Abrasive

3291023

Synthetic Abrasives

3291024

Corundum Abrasives

3291025

Grinding Balls, Ceramic

3291026

Metallic Abrasive

3291027

Rouge-Polishing-Abrasive

3291028

Silicon Carbide Abrasive

3291029

Tungsten Carbide Abrasive

3291030

Coated Abrasive Products

3291031

Cloth-Abrasive-Garnet, Emery, Aluminum Oxide Coated

3291032

Paper-Abrasive-Garnet, Emery, Aluminum Oxide Coated

3291033

Sandpaper (manufacturers)

3291034

Artificial Abrasives

3291035

Grindstones, Artificial

3291036

Oilstones, Artificial

3291037

Rubbing Stones, Artificial

3291038

Grinding Wheels (manufacturers)

3291039

Whetstones, Artificial

3291040

Abrasive Grains

3291041

Diamond Powder

3291042

Abrasive Buffs, Bricks, Cloth, Paper, Stones, Etc

3291043

Sticks, Abrasive
8-digit SIC
32910000

Abrasive Products

32910100

Scouring Abrasive Materials

32910101

Pads, Scouring: Soap Impregnated

32910102

Sponges, Scouring: Metallic

32910200

Abrasive Stones, Except Grinding Stones: Ground Or Whole

32910201

Bort, Crushing

32910202

Hones

32910203

Pumice And Pumicite Abrasive

32910204

Stones, Abrasive

32910205

Tripoli

32910300

Abrasive Metal And Steel Products

32910301

Aluminous Abrasive

32910302

Aluminum Oxide (fused) Abrasives

32910303

Grit, Steel

32910304

Steel Shot Abrasive

32910305

Steel Wool

32910400

Abrasive Wheels And Grindstones, Not Artificial

32910401

Buffing Or Polishing Wheels, Abrasive Or Nonabrasive

32910402

Polishing Wheels

32910403

Wheels, Abrasive

32910500

Synthetic Abrasives

32910503

Corundum Abrasives

32910504

Grinding Balls, Ceramic

32910505

Metallic Abrasive

32910506

Rouge, Polishing: Abrasive

32910507

Silicon Carbide Abrasive

32910508

Tungsten Carbide Abrasive

32910600

Coated Abrasive Products

32910601

Cloth, Abrasive: Garnet, Emery, Aluminum Oxide Coated

32910602

Paper, Abrasive: Garnet, Emery, Aluminum Oxide Coated

32910603

Sandpaper

32910700

Artificial Abrasives

32910701

Grindstones, Artificial

32910702

Oilstones, Artificial

32910703

Rubbing Stones, Artificial

32910705

Wheels, Grinding: Artificial

32910706

Whetstones, Artificial

32910800

Abrasive Grains

32910801

Diamond Powder

32919901

Abrasive Buffs, Bricks, Cloth, Paper, Stones, Etc.

32919902

Sticks, Abrasive