How Do I Find My NAICS Code
NAICS Codes are industry classification codes that are self-selected and determined based on a company's primary line of business. Selecting the correct NAICS Code for your business is crucial for various reasons, including government statistical purposes, taxation, classification, state and federal registration, contracting, and proper identification.
What is My NAICS Code?
At SICCODE.com, we provide a range of tools and resources to assist you in determining your NAICS Code. Our aim is to make the process as easy and efficient as possible for businesses like yours.
NAICS - Primary Business Activity
According to the U.S. Census Bureau, the primary business activity of an establishment is determined by factors such as relative share of production costs and/or capital investment. In practice, other variables like revenue, value of shipments, or employment are used as proxies. Typically, the U.S. Census Bureau uses revenue or value of shipments to determine the primary business activity of an establishment.
What is a Primary NAICS Code?
Each and every company will have a primary NAICS Code, which indicates its primary line of business. The primary NAICS Code is determined by the code definition that generated the highest revenue for the company at a specific location in the past year. This code is crucial for accurately identifying and categorizing your business.
NAICS Code Registration
Register Your NAICS Code and create a Business Profile on SICCODE.com
Benefits of Registration

Exposure in Search Engines and SIC & NAICS Database: Registering your NAICS Code increases your visibility in search engines, making it easier for potential customers or partners to find your business.
Promote your Business: Registering your NAICS Code allows you to promote your business to a wider audience. By providing accurate and detailed information about your company, you can attract potential customers and showcase your expertise in your specific industry.
Get Your SIC & NAICS Code Registration Badge: Once you register your NAICS Code on SICCODE.com, you will receive a registration badge that you can display on your website or marketing materials. This badge serves as a visual representation of your industry classification and can enhance your credibility and professionalism.
Display Products and Services: By registering your NAICS Code, you can showcase your products and services on SICCODE.com. This allows potential customers to easily browse and learn more about what your business offers, increasing the chances of generating leads and sales.
NAICS Code Lookup / Directory
This page offers two ideal ways to identify your primary line of business. - NAICS Lookup/Directory
NAICS Lookup
You can use the NAICS Lookup tool on SICCODE.com to search for specific NAICS Codes based on keywords or industry descriptions. This tool helps you find the most relevant NAICS Code for your business quickly and accurately.


The results will provide a list of code detail pages that offer in-depth coverage on every NAICS Code industry.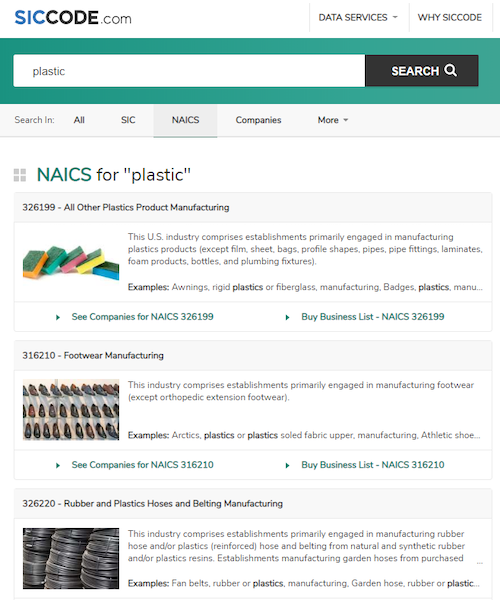 NAICS Directory
The NAICS Directory allows you to drill-down from the more general (Top-Level 2-digit) NAICS Codes and identify the Final Level 6-digit code for your application and usage.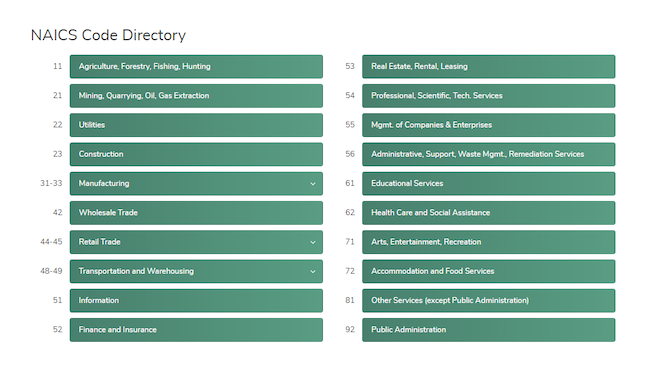 In this example, we will click into the Construction Top Level Category - 23 and identify the Residential Remodelers Final Level NAICS Code 236118. Notice the arrow at the top of the screen demonstrating that as you go from left to right on this hierarchy table, you will go from general to more specific levels of NAICS Codes. The 6-digit level on the right is the most specific. The shaded green boxes show you the direct parent of this code. Click on any of the code links to view the Code Detail Page.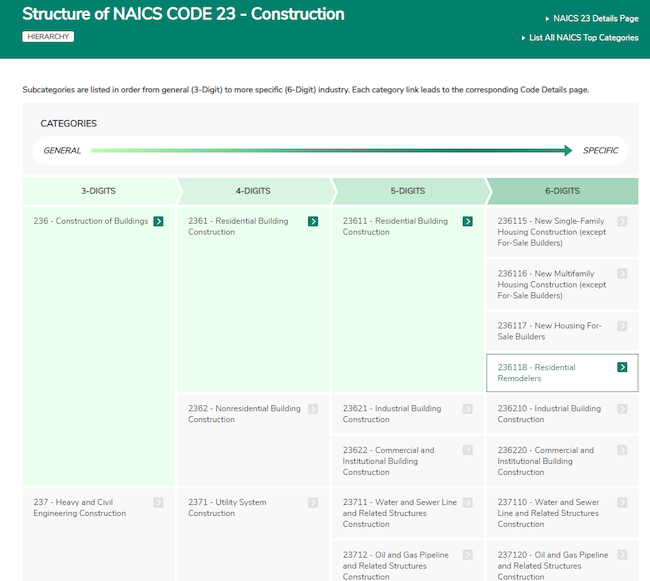 Code Detail Pages
On the Code Detail pages, you will find the Official Definition, Industry Examples, Cross-References, Top Companies in this industry, USA Import/Export/Balance of Trade figures, Questions and Answers, as well as other Related Code Systems.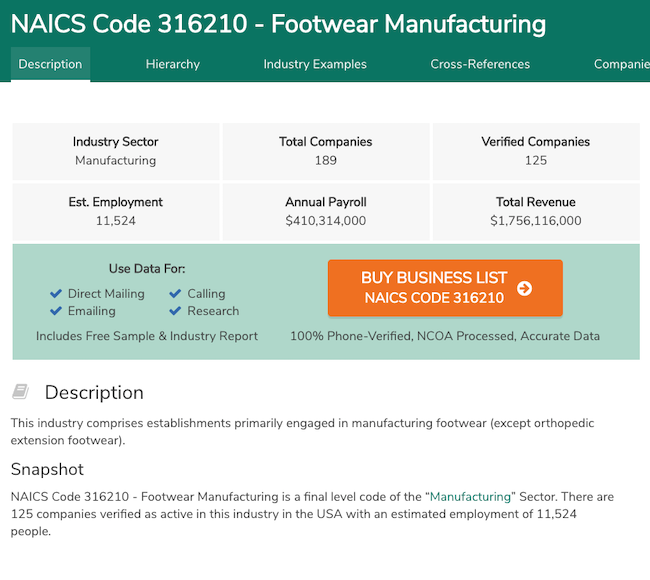 Once you determine your NAICS Code at the 6-digit level, you can use this on SBA applications as well as other business documentation as requested.
If you have any questions, please Contact Us.
Thank You For Your Request
Your Personal Data Representative will be contacting you shortly.
What Our Clients Say
We needed a full list of companies within a specific SIC code in order to complete some target market analysis. SICCODE.com provided a comprehensive data set to review and analyze. The delivery was fast and comprehensive. The experience was simple, straightforward, and met our needs - we would recommend.