SIC Code 8111 - Legal Services
Est. Employment
8,193,578
Use Data For:
Direct Mailing
Emailing
Calling
Research
Includes Free Sample & Industry Report
100% Phone-Verified, NCOA Processed, Accurate Data
Description
Establishments which are headed by members of the bar and are primarily engaged in offering legal advice or services.
Snapshot
SIC Code 8111 - Legal Services is a final level code of the "Services" Division. There are 214,613 companies classified in this industry in the USA with an estimated employment of 8,193,578 people.
Hierarchy Navigation for SIC Code 8111
Industry Examples
Common types of examples within SIC Code 8111 - Legal Services are:
Attorneys
Counselors at law
Law offices
Lawyers
Legal aid services
Legal services
Patent solicitors' offices
Referees in bankruptcy
Industry Image
Example photo for industry SIC 8111 - Legal Services. This image represents an activity or product found in this industry.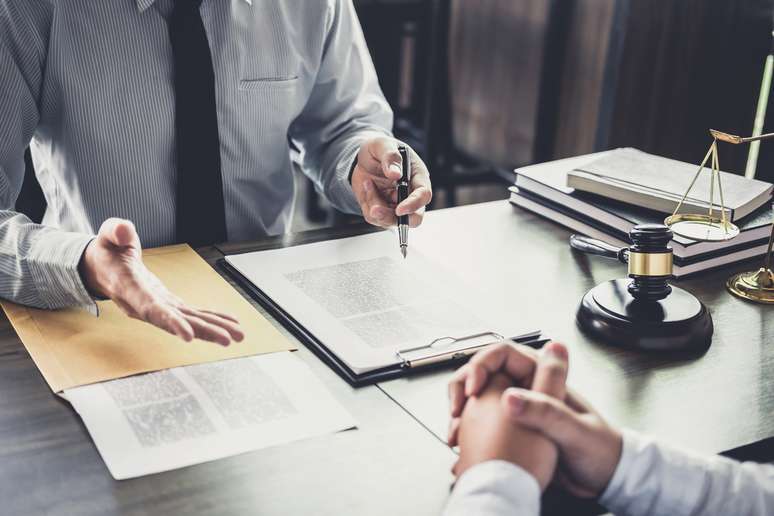 Companies
SICCODE.com compiles comprehensive business data and executive contact leads for businesses within SIC Code 8111 - Legal Services. Some of the leading and most notable companies are listed below. To order a list of companies within SIC Code 8111 - Legal Services for marketing (postal mailing, telemarketing, emailing) or analytics-use, click on the link below to "Buy Business List". Our data analysts are standing by to assist in your list setup and target marketing.
Industry Executives
Would you like to email executives in SIC Code 8111 - Legal Services? Below are some of the common job titles available to be targeted.
Business Development
Chairman
C-Level
Director
Engineering
Executive Director
Facilities
Finance
Human Resource
IT
Manager
Marketing
Manufacturing
Operations
Owner
Partner
President
Principal
Purchasing
Sales
Vice President
For specific job title targeting, please provide details in the business list request form.
Extended SIC Code Categories for
SIC 8111
For business marketing and targeting, SIC Codes have been extended to provide more specific classifications within SIC Code 8111 – Legal Services. Extended SIC Codes are being continuously updated to reflect the current business environment.
6-digit SIC
811101

Attorneys Service Bureaus

811102

Attorney Referral Service

811103

Attorneys

811104

Immigration & Naturalization Services

811105

Referees In Bankruptcy

811106

Social Security Counselors & Reps

811107

Probate Service

811108

Patent Agents

811109

Dedimus Justices

811110

Right Of Way Acquisition Contractors

811111

Divorce Assistance

811112

Incorporating Companies

811113

Legal Service Plans

811114

Legal Clinics

811115

Legal Research

811116

Lien Processing Service

811117

Law Citation Retrieval Service

811118

Legal Marketing

811120

Estate Planning

811121

Environmental Attorneys

811122

Small Claims Assistance

811123

Real Estate-Law

811198

Legal Services
7-digit SIC
8111001

Attorneys

8111002

Specialized Legal Services

8111003

General Practice Law Offices

8111004

Specialized Law

8111005

Criminal Law

8111006

Real Estate Law

8111007

Divorce & Family Law

8111008

Will, Estate & Trust Law

8111009

Corporate, Partnership & Business Law

8111010

Bankruptcy Law

8111011

Labor & Employment Law

8111012

Immigration & Naturalization Services

8111013

Legal Aid Services

8111014

Patent, Trademark & Copyright Law

8111015

Malpractice & Negligence Law

8111016

Taxation Law

8111017

Administrative & Government Law

8111018

Referees In Bankruptcy

8111019

Debt Collection Law

8111020

Environmental Law

8111021

Patent Agents

8111022

Securities Law

8111023

Product Liability Law

8111024

Antitrust & Trade Regulation Law

8111025

Attorneys Services Bureaus

8111026

General Practice Attorneys

8111027

Attorney Referral Services

8111028

Social Security Counselors & Reps

8111029

Probate Services

8111030

Dedimus Justices

8111031

Right Of Way Acquisition Contractors

8111032

Divorce Assistance Services

8111033

Incorporating Companies

8111034

Legal Services Plans

8111035

Legal Clinics

8111036

Legal Research

8111037

Lien Processing Services

8111038

Law Citation Retrieval Services

8111039

Legal Marketing

8111040

Estate Planning

8111041

Environmental Attorneys

8111042

Small Claims Assistance

8111043

Legal Services
8-digit SIC
81110000

Legal Services

81110100

Specialized Legal Services

81110101

Bankruptcy Referee

81110102

Patent Solicitor

81110200

Specialized Law Offices, Attorneys

81110201

Administrative And Government Law

81110202

Antitrust And Trade Regulation Law

81110203

Bankrupcy Law

81110204

Corporate, Partnership And Business Law

81110205

Criminal Law

81110206

Debt Collection Law

81110207

Divorce And Family Law

81110208

Environmental Law

81110209

Immigration And Naturalization Law

81110210

Labor And Employment Law

81110211

Malpractice And Negligence Law

81110212

Patent, Trademark And Copyright Law

81110213

Product Liability Law

81110214

Real Estate Law

81110215

Securities Law

81110216

Taxation Law

81110217

Will, Estate And Trust Law

81119901

General Practice Attorney, Lawyer

81119902

General Practice Law Office

81119903

Legal Aid Service
Questions & Answers
What is the SIC Code for law firms?

The SIC code for law firms in SIC Code 8111 – Legal Services.

How specific can I target the law industry in a business list?

There are 20 unique categories within the law firm industry including 26 specializations that can be set up for a specific business list. The specialization include copyright, immigration, anti-trust licensing, appeals, banking personal injury, bankruptcy, civil law, corporate business, arbitration, social security, medicare-medicaid, taxation, real estate, product liability, trademark, litigation, labor relations, insurance, patent, government, family law, civil rights, estate planning, environment, and criminal justice.