SIC Code 8611 - Business Associations
Description
Membership organizations engaged in promoting the business interests of their members.
Snapshot
SIC Code 8611 - Business Associations is a final level code of the "Services" Division. There are 53,079 companies classified in this industry in the USA with an estimated employment of 341,430 people.
Industry Examples
Common types of examples within SIC Code 8611 - Business Associations are:
Better business bureaus
Boards of trade, other than security and commodity exchanges
Business associations, other than civic and social
Chambers of Commerce
Contractor's associations
Growers' associations, not engaged in contract buying or selling
Growers' marketing advisory services
Industrial standards committees
Junior Chambers of Commerce
Manufacturers' institutes
Merchants' associations, not engaged in credit investigations
Public utility associations
Real estate boards
Shipping and steamship company associations
Trade associations
Industry Image
Example photo for industry SIC 8611 - Business Associations. This image represents an activity or product found in this industry.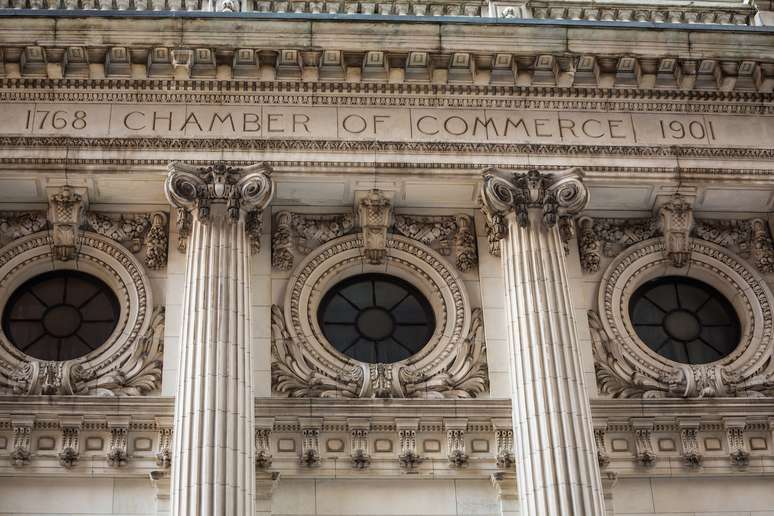 Cross-References
For some business types, there may be a similar industry to SIC Code 8611 - Business Associations that is a better classification match.
Associations owned by their members but organized to perform a specific business function, such as common marketing of crops or joint advertising, are classified according to the function performed.
Companies
SICCODE.com compiles comprehensive business data and executive contact leads for businesses within SIC Code 8611 - Business Associations. Some of the leading and most notable companies are listed below. To order a list of companies within SIC Code 8611 - Business Associations for marketing (postal mailing, telemarketing, emailing) or analytics-use, click on the link below to "Buy Business List". Our data analysts are standing by to assist in your list setup and target marketing.
Industry Executives
Would you like to email executives in SIC Code 8611 - Business Associations? Below are some of the common job titles available to be targeted.
Business Development
Chairman
C-Level
Director
Engineering
Executive Director
Facilities
Finance
Human Resource
IT
Manager
Marketing
Manufacturing
Operations
Owner
Partner
President
Principal
Purchasing
Sales
Vice President
For specific job title targeting, please provide details in the business list request form.
Extended SIC Code Categories for
SIC 8611
For business marketing and targeting, SIC Codes have been extended to provide more specific classifications within SIC Code 8611 – Business Associations. Extended SIC Codes are being continuously updated to reflect the current business environment.
6-digit SIC
861101

Business & Trade Organizations

861102

Associations

861103

Sales Organizations

861104

Chambers Of Commerce

861105

Ancsa Native Corporations

861106

Oil Well Log Libraries

861107

Farm Organizations

861108

Better Business Bureaus

861109

Lumber-Inspectors

861110

Shippers Cooperative Organizations
7-digit SIC
8611001

Associations

8611002

Business & Trade Organizations

8611003

Chambers Of Commerce

8611004

Community Affairs & Services

8611005

Contractors Association

8611006

Manufacturers Institute

8611007

Real Estate Board

8611008

Merchants Association

8611009

Public Utility Association

8611010

Growers Association

8611011

Growers Marketing Advisory Services

8611012

Bankers Organization, Advisory Services

8611013

Shipping & Steamship Company Association

8611014

Better Business Bureaus

8611015

Regulatory Association

8611016

Junior Chamber Of Commerce

8611017

Board Of Trade

8611018

Industrial Standards Committee

8611019

Sales Organizations

8611020

Ancsa Native Corporations

8611021

Oil Well Log Libraries

8611022

Farm Organizations

8611023

Lumber-Inspectors

8611024

Shippers Cooperative Organizations
8-digit SIC
86110000

Business Associations

86110100

Trade Associations

86110101

Contractors' Association

86110102

Manufacturers' Institute

86110103

Merchants' Association

86110104

Public Utility Association

86110105

Shipping And Steamship Company Association

86110200

Growers' Associations

86110201

Growers' Marketing Advisory Service

86110300

Regulatory Associations

86110301

Better Business Bureau

86110302

Board Of Trade

86110303

Industrial Standards Committee

86110304

Real Estate Board

86119901

Banker's Organization, Advisory Services

86119902

Chamber Of Commerce

86119903

Community Affairs And Services

86119904

Junior Chamber Of Commerce