SIC Code 3523 - Farm Machinery and Equipment
Industry Sector
Manufacturing
Use Data For:
Direct Mailing
Emailing
Calling
Research
Includes Free Sample & Industry Report
100% Phone-Verified, NCOA Processed, Accurate Data
Description
Establishments primarily engaged in manufacturing farm machinery and equipment, including wheel tractors, for use in the preparation and maintenance of the soil; planting and harvesting of the crop; preparing crops for market on the farm; or for use in performing other farm operations and processes. Included in this industry are establishments primarily engaged in manufacturing commercial mowing and other turf and grounds care equipment.
Snapshot
SIC Code 3523 - Farm Machinery and Equipment is a final level code of the "Manufacturing" Division. There are 1,465 companies classified in this industry in the USA with an estimated employment of 35,391 people.
Hierarchy Navigation for SIC Code 3523
Industry Examples
Common types of examples within SIC Code 3523 - Farm Machinery and Equipment are:
Agricultural implements and machinery
Ammonia applicators and attachments (agricultural machinery)
Bale throwers
Balers, farm: e.g., hay, straw, cotton
Barn cleaners
Barn stanchions and standards
Blowers and cutters, ensilage
Blowers, forage
Brooders
Cabs, agricultural machinery
Calf savers (farm equipment)
Cattle feeding, handling, and watering equipment
Cattle oilers (farm equipment)
Chicken brooders
Cleaning machines for fruits, grains and vegetables: farm
Combines (harvester-threshers)
Conveyors, farm (agricultural machinery)
Corn pickers and shellers, farm
Corrals, portable
Cotton picker and stripper harvesting machinery
Cream separators, farm
Crop driers, farm
Crushers, feed (agricultural machinery)
Cultivators, agricultural field and row crop
Cutters, ensilage
Dairy equipment, farm
Drags (agricultural equipment)
Driers: grain, hay, and seed (agricultural implements)
Dusters, mechanical: agricultural
Elevators, farm
Farm machinery and equipment
Feed grinders, crushers, and mixers (agricultural machinery)
Feeders, chicken
Fertilizing machinery, farm
Field type rotary tillers (agricultural machinery)
Fruit, vegetable, berry, and grape harvesting machines
Gates, holding (farm equipment)
Grading, cleaning, and sorting machines: fruit, grain, and vegetable
Grain drills, including legume planters (agricultural machinery)
Grain stackers
Greens mowing equipment
Grounds mowing equipment
Hair clippers for animal use, hand and electric
Hammer and roughage mills (agricultural machinery)
Harrows: disc, spring, and tine
Harvesting machines
Haying machines: mowers, rakes, loaders, stackers, balers, presses,
Hog feeding, handling, and watering equipment
Hulling machinery, agricultural
Incubators, except laboratory and infant
Irrigation equipment, self-propelled
Land rollers and levelers (agricultural machinery)
Listers
Loaders, farm type (general utility)
Milking machines
Mowers and mower-conditioners, hay
Peanut combines, diggers, packers, and threshers (agricultural
Planting machines, agricultural
Plows, agricultural: disc, moldboard, chisel, etc.
Potato diggers, harvesters, and planters (agricultural machinery)
Poultry brooders, feeders, and waterers
Poultry vision control devices
Presses and balers, farm: hay, cotton, etc.
Rakes, hay (agricultural machinery)
Rotary hoes (agricultural machinery)
Roughage mills (agricultural machinery)
Seeders (agricultural machinery)
Separators, grain and berry: farm
Shears, sheep: power
Shellers, nut (agricultural machinery)
Shredders (agricultural machinery)
Silo fillers (agricultural machinery)
Soil pulverizers and packers (agricultural machinery)
Sorting machines for agricultural products
Sprayers, hand: agricultural
Spraying machines (agricultural machinery)
Spreaders, fertilizer
Tobacco curers
Tractors, wheel: farm type
Trailers and wagons, farm
Transplanters
Turf equipment, commercial
Vine pullers
Volume guns (irrigation equipment)
Water troughs
Weeding machines, farm
Windmills for pumping water (agricultural machinery)
Windrowers (agricultural machinery)
Industry Image
Example photo for industry SIC 3523 - Farm Machinery and Equipment. This image represents an activity or product found in this industry.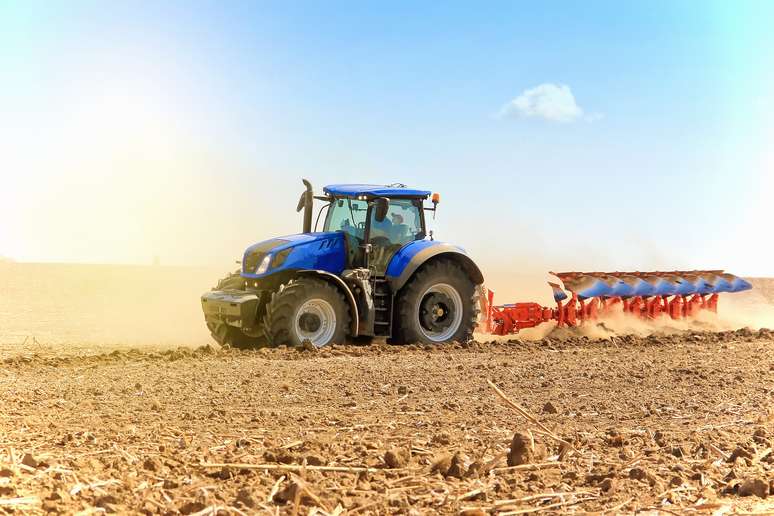 Cross-References
For some business types, there may be a similar industry to SIC Code 3523 - Farm Machinery and Equipment that is a better classification match.
Establishments primarily engaged in manufacturing farm handtools are classified in SIC Code - 342, and those manufacturing garden tractors, lawnmowers and other lawn and garden equipment are classified in SIC Code - 3524.
Companies
SICCODE.com compiles comprehensive business data and executive contact leads for businesses within SIC Code 3523 - Farm Machinery and Equipment. Some of the leading and most notable companies are listed below. To order a list of companies within SIC Code 3523 - Farm Machinery and Equipment for marketing (postal mailing, telemarketing, emailing) or analytics-use, click on the link below to "Buy Business List". Our data analysts are standing by to assist in your list setup and target marketing.
Industry Executives
Would you like to email executives in SIC Code 3523 - Farm Machinery and Equipment? Below are some of the common job titles available to be targeted.
Business Development
Chairman
C-Level
Director
Engineering
Executive Director
Facilities
Finance
Human Resource
IT
Manager
Marketing
Manufacturing
Operations
Owner
Partner
President
Principal
Purchasing
Sales
Vice President
For specific job title targeting, please provide details in the business list request form.
Alternative SIC Code Categories for
SIC 3523
For business marketing and targeting purposes, please refer to the Extended SIC Codes (6-digit).
7-digit SIC
3523001

Farm Equipment (manufacturers)

3523002

Grain, Hay & Seed Driers

3523003

Cattle Feeding, Handling & Watering Equipment

3523004

Farm Trailers & Wagons

3523005

Barn, Silo, Poultry, Dairy & Livestock Machinery

3523006

Agricultural Sprayers & Spraying Machines

3523007

Self-Propelled Irrigation Equipment

3523008

Dairy Equipment

3523009

Farm Tractors & Equipment (manufacturers)

3523010

Farm Harvesters & Equipment (manufacturers)

3523011

Potato Warehouse Equipment (manufacturers)

3523012

Planting, Haying, Harvesting & Processing Machinery

3523013

Balers (manufacturers)

3523014

Feed Mill Equipment & Supplies (manufacturers)

3523015

Barn Equipment (manufacturers)

3523016

Cleaning Machines For Fruits, Grains & Vegetables

3523017

Farm Equipment-Repairing & Parts (manufacturers)

3523018

Combines

3523019

Fertilizing Equipment (manufacturers)

3523020

Corn Pickers & Shellers

3523021

Cotton Pickers & Strippers

3523022

Irrigation Systems & Equipment (manufacturers)

3523023

Grading, Cleaning, Sorting Machines, Fruit, Grain, Vegetable

3523024

Poultry Equipment & Supplies (manufacturers)

3523025

Shredders (manufacturers)

3523026

Grain Stackers

3523027

Feed Handling Equipment (manufacturers)

3523028

Haying Machines-Mowers, Rakes, Stackers, Etc

3523029

Hulling Machinery, Agricultural

3523030

Grain Handling Equipment (manufacturers)

3523031

Potato Sprout Inhibitors (manufacturers)

3523032

Peanut Combines, Diggers, Packers & Threshers

3523033

Hog Equipment (manufacturers)

3523034

Planting Machines, Agricultural

3523035

Waterers-Livestock (manufacturers)

3523036

Potato Harvesting/planting Equipment (manufacturers)

3523037

Shakers-Tree-Nuts, Fruits, Etc

3523038

Livestock Equipment & Supplies (manufacturers)

3523039

Nut Cracking & Shelling Machines (manufacturers)

3523040

Tobacco Curers

3523041

Transplanters

3523042

Soil Preparation Machinery (except Turf & Grounds)

3523043

Harrows-Disc, Spring, Tine, Etc

3523044

Plows-Agricultural-Disc, Moldboard, Chisel, Listers, Etc

3523045

Weeding Machines, Agricultural

3523046

Fertilizing, Spraying, Dusting & Irrigation Machinery

3523047

Dusters-Mechanical-Agricultural

3523048

Fertilizing Machinery, Farm

3523049

Spreaders, Fertilizer

3523050

Barn Cleaners

3523051

Barn Stanchions & Standards

3523052

Blowers, Forage

3523053

Clippers For Animal Use-Hand Or Electric

3523054

Crop Storage Bins

3523055

Cutters & Blowers, Ensilage

3523056

Feed Grinders, Crushers & Mixers

3523057

Hog Feeding, Handling & Watering Equipment

3523058

Incubators & Brooders, Farm

3523059

Loaders-Farm Type-Manure, General Utility

3523060

Milking Machines

3523061

Poultry Brooders, Feeders & Waterers

3523062

Sheep Shears, Power

3523063

Silo Fillers & Unloaders

3523064

Water Troughs

3523065

Livestock Treadmills

3523066

Turf & Grounds Equipment

3523067

Greens Mowing Equipment

3523068

Grounds Mowing Equipment

3523069

Turf Equipment, Commercial

3523070

Cabs, Tractors & Agricultural Machinery

3523071

Elevators, Farm

3523072

Soil Sampling Machines

3523073

Windmills (manufacturers)
8-digit SIC
35230000

Farm Machinery And Equipment

35230100

Planting, Haying, Harvesting, And Processing Machinery

35230101

Balers, Farm: Hay, Straw, Cotton, Etc.

35230102

Cleaning Machines For Fruits, Grains, And Vegetables

35230103

Combines (harvester-Threshers)

35230104

Corn Pickers And Shellers

35230105

Cotton Pickers And Strippers

35230106

Driers (farm): Grain, Hay, And Seed

35230107

Grading, Cleaning, Sorting Machines, Fruit, Grain, Vegetable

35230108

Grain Stackers

35230109

Harvesters, Fruit, Vegetable, Tobacco, Etc.

35230110

Haying Machines: Mowers, Rakes, Stackers, Etc.

35230111

Hulling Machinery, Agricultural

35230112

Peanut Combines, Diggers, Packers, And Threshers

35230113

Planting Machines, Agricultural

35230114

Potato Diggers, Harvesters, And Planters

35230115

Shakers, Tree: Nuts, Fruits, Etc.

35230116

Tobacco Curers

35230117

Transplanters

35230200

Soil Preparation Machinery, Except Turf And Grounds

35230201

Harrows: Disc, Spring, Tine, Etc.

35230202

Plows, Agricultural: Disc, Moldboard, Chisel, Listers, Etc.

35230203

Weeding Machines, Agricultural

35230300

Fertilizing, Spraying, Dusting, And Irrigation Machinery

35230301

Dusters, Mechanical: Agricultural

35230302

Fertilizing Machinery, Farm

35230303

Irrigation Equipment, Self-Propelled

35230304

Sprayers And Spraying Machines, Agricultural

35230305

Spreaders, Fertilizer

35230400

Barn, Silo, Poultry, Dairy, And Livestock Machinery

35230401

Barn Cleaners

35230402

Barn Stanchions And Standards

35230403

Blowers, Forage

35230404

Cattle Feeding, Handling, And Watering Equipment

35230405

Clippers, For Animal Use: Hand Or Electric

35230407

Crop Storage Bins

35230408

Cutters And Blowers, Ensilage

35230409

Dairy Equipment (farm), Nec

35230410

Feed Grinders, Crushers, And Mixers

35230411

Hog Feeding, Handling, And Watering Equipment

35230412

Incubators And Brooders, Farm

35230413

Loaders, Farm Type: Manure, General Utility

35230414

Milking Machines

35230415

Poultry Brooders, Feeders And Waterers

35230416

Sheep Shears, Power

35230417

Silo Fillers And Unloaders

35230418

Water Troughs

35230419

Livestock Treadmills

35230500

Turf And Grounds Equipment

35230501

Greens Mowing Equipment

35230502

Grounds Mowing Equipment

35230503

Turf Equipment, Commercial

35239901

Cabs, Tractors, And Agricultural Machinery

35239902

Elevators, Farm

35239903

Soil Sampling Machines

35239904

Tractors, Farm

35239905

Trailers And Wagons, Farm

35239906

Windmills For Pumping Water, Agricultural